New Hardware
I'm writing this post at my new computer and am really happy about that
. I just looked up my blog post from when I upgraded last and was really shocked to see the date. Is it really 6 years since I last bought a new one? Wow, I guess I'm really getting old.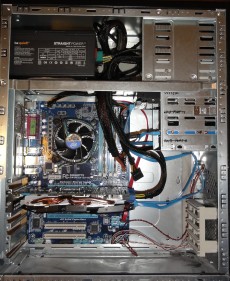 Here are the new specs:
As you can see this is not the fastest thing available but more of a medium range one. I didn't want to spend too much and the above set me back by about 750 EUR.
Building the PC was much easier than I remember it. Attaching the CPU cooler was no longer a huge PITA. And thanks to cable management, SATA cables and a smaller CPU fan, there is much more space in my case now (compare with before).
Unfortunately not all was well. The ADATA SDD I bought, completely died within the first hours of copying data. After studying reviews a bit more careful (should have done this before) this seems not to be uncommon with this particular brand. So I went out and bought a different one on Saturday. Good that there are still a few computer stores left in Berlin.
BTW. the new hardware also means that I finally switched to 64Bit. Yeah, future!
So I'm happy now, and maybe I'll finally buy Diablo 3 next week, now that I have a PC to play it on
.
Similar posts: