100% less Tentacles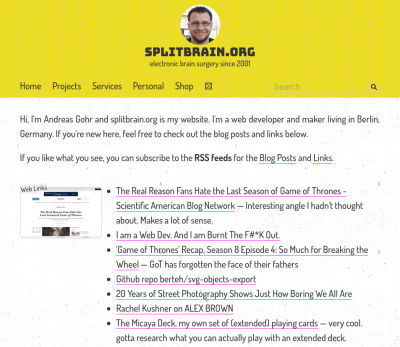 Unless you're reading this in a Feedreader (excellent!) or you're completely new here (welcome!) you will notice that everything looks different.
Only ten years after the last redesign, I made a new look for this site. To be honest, I am quite surprised about what I ended up with. It seems more hipster than I thought myself to be 🙃.
My goal was to provide a proper mobile experience and make the whole look focus more on the content. That means no more sidebar, larger font and of course full responsive layout.
The whole redesign took me a handful of evenings, but I expect to tweak it a bit more for a while. Let me know if you find something off.
splitbrain.org is still running on DokuWiki of course and the new template is based on the TwigStarter Template I released only a few days ago.
Because Twig requires PHP 7 I also had to finally upgrade this server to Debian Stretch. Everything went much smoother than anticipated. I was pleasantly surprised that Debian allows for running PHP 5 and 7 in parallel via FPM. This buys me some more time to upgrade some of the older stuff I have on this server1).
One thing that confuses me is Kaddi's Blog. It runs on an up-to-date Wordpress and that should not have any problems with PHP 7, but as soon as I switch, the UTF-8 breaks. A quick googling did not reveal anything. If any Wordpress buffs have a tip for me, please leave a comment.
Actually, remember when people left comments on blogs? Ah, those were the good times…
Similar posts:
1)
I know, I know – this should have had happened years ago