Workbench Storage
A workshop needs storage. For tools, materials, accessories and doodads. I'm still very happy with my IKEA Trofast system, but it has only three sizes of containers. Sometimes you need something smaller. Or something much smaller. And sometimes something bigger.
So I thought a while about how to incorporate another, more flexible storage solution into the shop.
Doing it true Imgur style, here is what the finished solution looks like first:
And this is where it started: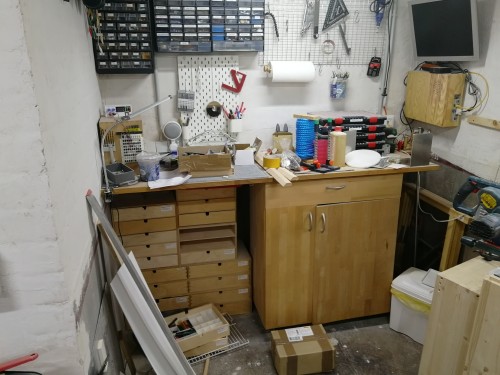 ---
The goal was to do an economic remodeling of the whole under the bench area. Economic means cheap wood. Cheapest wood there is is OSB. So that's what I mostly used.
As you can see, I had some IKEA Moppe drawer units in two different sizes. I think both exact models are discontinued now. I liked them in general, but they didn't use the available space in an ideal way. So I removed the larger ones and reused the smaller ones rotated by 90 degrees. This of course means the little handle holes aren't usable anymore. Instead I added 3D printed knobs. The face plates were recycled from the plywood of the old drawer cabinets.
For really small stuff, nothing beats part bins where you can take out and reorder the individual bins. If you're rich you probably want to go with Sortimo. If you aren't, you can buy 6 Polish Prosper Plast ones for the price of one Sortimo. 15 of those now reside on rails made from scraps left over from my printer cupboard build. Despite using a template for the spacing, the rails went slightly out of alignment between the two sides. But it's still usable.
Next to this small stuff storage, I wanted something that could hold larger stuff. Real drawers.
I started by building the cabinets. It's basically just the side walls spaced by scrap wood beams, screwed in with pocket holes. Relatively straight forward when your floor is perfectly flat. Which mine isn't.
So when I fit the drawer slides, I tried by best to align them using a bubble level. A leveling laser would have made that much easier. But I don't own one (yet). The alignment of the drawers isn't perfect, but they work and I guess that's what counts.
I put in the slides first, then measured the distance and cut my drawers to that size. Since they are very simple box constructions with no fancy joins at all, that was the easiest method. The drawers are glued and pin nailed together. They seem sturdy enough - we'll see how they will fare the test of time.
The front plates are made from 6mm plywood. To attach them, I put on glue and held them in place. Then I screwed in two small screws where the handle would be and a larger one as a makeshift pull. Then I could open the drawer and put in screws from the inside.
The drawers are 60cm deep, just like my bench's desktop. So I didn't want any handles protruding from the front. I also wanted them to be relatively dust proof, so cutouts didn't work, either. I found some drawer pulls on eBay that could be embedded into the fronts.
First I thought I could use the router to carve out the space needed for the handles, but that was too time consuming and messy for my taste. So I did a through cut using the jig saw instead. M4 screws and washers hold them in place.
Of course I fucked up measuring the last handle and it was out of line with the rest. It was such an eye sore that I had to replace the face board. It messes up the grain alignment, which is a pity. But it's only workshop furniture ¯\_(ツ)_/¯
Bill of Materials
| | |
| --- | --- |
| 18mm OSB for the sides | 19.20€ |
| 12mm OSB for the drawers | 36.42€ |
| 6mm Plywood for the IKEA drawers and large drawer fronts | 53.26€ |
| sheet metal drawer pulls | 18.22€ |
| 3 sets of 6 assortment boxes | 105.00€ |
| Total | 232.10€ |
Similar posts: