3 Days re:publica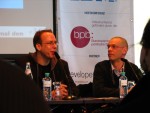 I spent the last 3 days at Germany's biggest blogging conference: the re:publica. It is well covered by press and bloggers already, so I will just talk about a few of my personal highlights.
The opening keynote by Victor Mayer-Schönberger was really interesting. He explained how in the whole history of mankind, forgetting was much easier and cheaper than remembering. Eg. storage space for written documents was limited and expensive. Efficient management of collected information was hard to achieve. We're now living, he continued, in a time were remembering is so cheap it is actually more work to forget anything. Think of how hard it is to delete an account from many of the new web services out there. Today data is collected by everyone: search engines, web services, private companies, even the state – and none of them deletes anything. Mayer-Schönberger then explained how this leads to serious privacy problems and suggested to introduce built in expiry dates in all our data.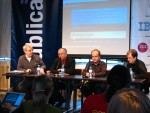 A reoccurring theme of the conference was citizen journalism. It still seems to struggle with the problem to find its viewers and is not at eye level with traditional media, yet. Most chances seem to be in the field of "hyper local news". Because many news papers do drastic cuts in their local editorial offices, the news by ambitious amateurs becomes more important. I took note of a few interesting projects that seem to be worth checking out:
Creative Commons was another big topic. After being around for 5 years now, the CC licenses are still not as well known and widely used as one would wish. There wasn't much new I learned here, except that there is now a new license called CC+ which is basically a Non-Commercial license with an embedded link to buy commercial rights. However a few related links were new to me: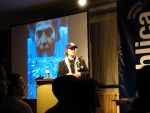 One of the most interesting talks was given by Christian Heller. It was about utopian dreams in the past, now and the future. After a short history about what people dreamed about and later achieved in history so far1), Christian talked about how current developments in computer, gene, bio and nano technology may change the world in the not necessarily distant future. A somewhat related talk by Verena Hafner discussed emergent behavior and how this relates to robots. I really wonder how thethree laws can be implemented in robots whose behavior can not be predicted?
Conferences like these are always a good way to evaluate current gadget trends. Apple was still the most common laptop brand, but the Eee PC was second. And it had a lot of attention. I was approached by many people asking about the Eee's battery life 2), the keyboard 3) or the display 4). On the mobile phone front I saw mostly iPhones, N95s and E61s.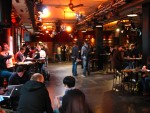 As always, coffee breaks are the most important part of a conference. Its the time when you can talk to people. I had very interesting chats with Martin Koser, Oliver Gassner, Tim Bartel, Jörg Kantel, Christian Kreutz and some more. Most talks were DokuWiki related of course and I got a few new ideas I'd like to implement sometime soon. Lutz Berger even made an video interview about DokuWiki with me.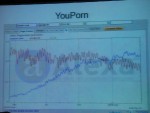 Finally I also enjoyed the less serious parts of re:publica 08. Like the party Sascha Lobo gave at his home for all his twitter followers5) or presentations like "Porn 2.0" or the performance by Artist Johannes Grenzfurtner of Monochrom. The games Blogger Jeopardy and domain name scrabble were fun, too but should get some better planning next time. The music act by The toten Crackhuren im Kofferraum6) was, uhm special. No seriously I liked them
Similar posts: