Happy New Year 2010!
I survived another year, time to look back at what happened last year.




















According to the media 2009 was the year of a world wide crisis. Luckily I was relatively unharmed by it. On the contrary, I spent a lot of money for electronics this year. I bought a Roomba, a laser printer, a UMTS stick, a Flatscreen TV, a Playstation 3 and a Dyson.
I also traveled to various places including the north sea coast, Iceland, Prague and Strasbourg. Because Delta sucks I didn't see Orlando and New York
. I really like to travel more. I need to think on how making that happen in 2010.
This year had a lot of good things going on. DokuWiki saw two releases and I created a handful of new plugins. Work was interesting and also involved some travel (which is good). I've been to a few good conferences, played some good games and was especially happy to meet with foosel and chi again. However I feel somewhat exhausted and unsatisfied about 2009. I'm not sure why or what exactly I missed but I hope to find it in 2010.
splitbrain.org - The Numbers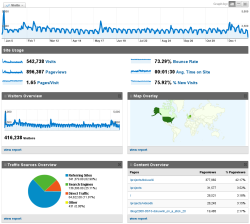 Let's have a look at how this website behaved this year.
I had about 542,000 visits with about 896,000 page views. That's about 7% less than last year. This is mostly because I blogged even less than last year.
I only wrote 68 blog posts which translates to roughly one post every 5 days. Here are the most popular posts written in 2009:
445 comments were made this year (excluding my own ones). The top commented posts were:
Thanks to everybody who cared to leave a comment. Especially to the top commenters:
jm_zz 7 comments
The feed reader count increased to currently 788 subscribers. Please subscribe if you aren't, yet.
Goals
I didn't reach any of my goals I set up last year, so these are all still applicable. I hope to blog more often again in 2010.
I'd also like to migrate from my own very simple blog plugin to the new and better Blog TNG plugin this year.
So, how was your 2009? Please let me know in the comments.
Similar posts: