splitbrain.org 2010
The year is nearly over and it's time to have a look back at what happened at splitbrain.org.
On the personal side the year 2010 didn't feel much different than 2009.
I had some fantastic vacations to Ireland and Rome and some smaller trips inside Germany. I'm still not travelling as much as I'd like, but unless some millionaire makes me his heir that probably won't ever be the case
.
I'm happy that my attempts to move some DokuWiki work from my shoulders to the community is starting to work out. Also having two DokuWiki hack events this year was great and I hope we can have another next year.
On the sad side was Chi's drawback from all his Internet and FOSS related activities.
I spent a lot of time playing computer games and I'm happy to see that the Adventure game genre seems to make a comeback.
The Numbers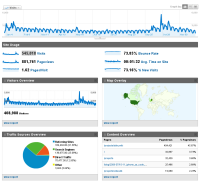 Relying on Google Analytics again, I had 545,018 vistors creating 881,761 page views. Both numbers are nearly the same as in 2009. About 45 percent were pageviews on the DokuWiki page again.
I wrote 62 blog posts (including this one) – pretty much the same as last year. Here are the top 5 of 2010:
357 comments (excluding my own) where posted during 2010 which is less than 2009. The top commented posts were:
Thanks to everybody who cared to leave a comment. Especially to the top commenters:
str 5 comments
This year I started to use Flattr which adds another way tfor users to give feedback. The top flattr'ed things were:
The feed reader count increased to currently 942 subscribers. Please subscribe if you aren't, yet.
No Goals
In recent years I always added some paragaphs on my goals are for the next year. However I don't really feel like it this time.
I'd love to say that I'm going to blog more next year, but that wont probably be true. The roughly once a week posting frequency is all seem to able to do.
I wish all my readers a happy new year 2011 and looking forward to your comments next year
Similar posts: