splitbrain.org 2007 (in numbers)
The year is about to end and this is my last week at home. Sunday Kaddi and me will go our well deserved vacation
. This might not be the very last blog entry this year but it is one of the last for sure. Time to look back at what what happened here in 2007.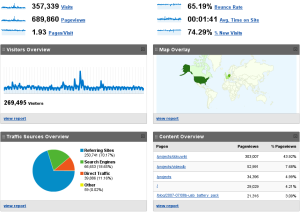 This year I bought a Wii and a DS. I didn't buy Nintendo shares which might have been an even better idea
. Kaddi and me went on vacation in Budapest and did a lot of geocaching the whole year. I visited Montreal for Wikis, twice. Sony, Flickr and my government pissed me off. iPhone, sub notebooks and Kindle made me drool.
But let's see what you enjoyed. Here are some statistics. According to Google Analytics I had about 360,000 visits generating 690,000 page views. Of course half of those went to the DokuWiki download page. I wrote 107 blog posts this year (including this one) which is about one every three days
.
Here are the 5 most popular posts by page views:
Of course this ranking isn't entirely fair to posts written later in the year. Another way to look at the popularity is by the number of comments:
Altogether I received 422 comments this year. A big thanks to everyone who commented. Especially to those top commenters: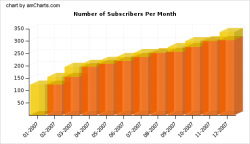 The number of subscribed RSS readers more than doubled from 124 in January to 329 readers now. The switch to full content feed hopefully helps to further increase readership.
So what's up next year? I hope to keep up my posting frequency and will try to post on a more regular schedule. Getting to a million page views would be great as would hitting the magical 500 subscriber mark.
Before I close this post I have one question for you: what was your most favorite splitbrain.org post in 2007?. Please leave your answer in the comments.
Similar posts:
1)
actually this one had over 80 but I deleted all test comments